Turbo resin wheel is mainly used for Glass Beveling Machine such as Bavelloni, Bovone, Lattuada, Bottero,Busetti, Basena, FMF, Schiatti, ADA, Lovati, Vitrododi, Zafferani, Somaca/Crl, Enkong, Suntech, Fushan, Baudin, Bodo Gerhard, CMS Brembana, Zanetti, GME, Covesa, Golive, Champion, Ivaco, Linshi, Beijiang, Deway, New Mainland, Folga, Hiseng, Leiyang, Juncai, YG, YH, ZXM, Ritong, Grateful, Sunrising, Deman.
Suit for: glass, safety glass, tempered glass, architectural glass, frosted glass, patterned glass, Insulated glass, laminated glass, glass brick, optical glass, Auto Glass, solar glass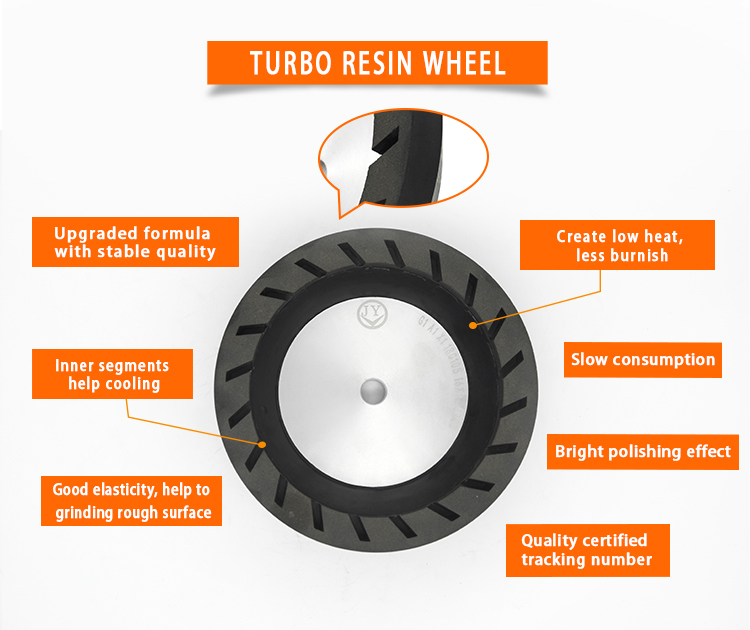 *Upgraded formula with stable quality *Creat low heat ,less burnish *Inner segments help cooling *Slow comsumption
❉PRODUCT PARAMETERS❉
Outer
Diameter

Hole

Actual Work
Rim Size

Grit

Position No.

Shape of Work Rim

For glass thickness

150

12,22,

16X10

3#,4#,5#,
6#,7#

FINE Grinding

TURBO
Inner Segments

3-19MM

Remarks: Different specifications are available if request. Size: mm

3# = 180# /200# , 4# = 240#/270# , 5# = 320# 6#= 500# 7#= 700#


Glass Turbo Resin Wheel Available in diamond-bonded series and resin-bonded series, the tools are sharp and wear-resistant which are made of selected materials by adopting advanced equipment, comprehensive technical judgment and advanced enterprise management.
*Professional Manufacturing Since 1987 *Pay attention to the details all the time *Strict Quality Control *Adequate Inventory *Experienced Service Team *Certificated Factory